If there is a warrant for your arrest in Ontario or another province, what can and can't you do?
What can and can't the police do?
Arrest warrants can be a little complicated so the information below should help.
Arrest Warrants in Ontario
An arrest warrant is a piece of paper usually issued by a justice or a provincial court and signed by a judge, legally permitting a police officer to arrest a person.
However, there are two types of arrest warrants in Ontario: a first-instance warrant and a bench warrant.
With either type, you can be arrested at any time but there are some important differences with how they are issued and the legal consequences.
First-Instance Warrant
This is issued when police have charged but cannot locate a person.
Bench Warrant
A bench warrant is issued by police when you fail to attend court for a scheduled appearance. In these cases, you are usually also charged with failing to appear.
Do the Police Need a Warrant to Arrest You?
Police can arrest anyone without a warrant. 
However, an arrest warrant is often issued by a judge in cases where law enforcement officers require assistance in arresting somebody.
This could be for an individual who has committed a particular type of offence and where the judge is convinced beyond a reasonable doubt that a crime has occurred.
Without an arrest warrant, police still have powers to arrest people if they believe a serious offence has taken place, is about to take place, or somebody is engaged in committing an offence at the time.
They can also arrest you if they believe that there is an existing warrant out for your arrest, if you refuse to identify yourself, or if they believe that you will destroy evidence.
How do I Find Out if There is a Warrant Out for My Arrest?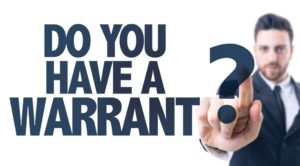 If a warrant has been issued for your arrest anywhere in Canada, you can find out in several different ways:
Visit a police station: if you turn up in person at a police station and ask the police to check, they will enter your name into the Canadian Police Information Centre (CPIC) database. If there is an existing arrest warrant, you will likely be arrested on the spot. You may then be released on a promise to appear or held in custody until your appearance date or bail hearing (in which case it is vital to consult your lawyer).
Contact the criminal court:

you can also turn up in person at the courthouse and check with the criminal court clerk if there is an arrest warrant out for you. Again, you risk being arrested and taken into custody on the spot.

Check through your lawyer: a criminal defence lawyer like Jeffrey I. Reisman can check on your behalf and, if there is a warrant out for your arrest, help you manage the process and avoid being held in custody.
What if I Have an Arrest Warrant in a Different Province?
Most arrest warrants apply to the province in which they are issued. 
However, in serious cases, a Canada-wide arrest warrant may be issued, by which you can be arrested by police officers anywhere in the country.
Also, when a superior court or the court of appeal issue the warrant, this may enable police officers anywhere in Canada to arrest and bring you into custody.
A warrant issued by a provincial authority may also be endorsed by the court in another province, enabling the police in that province to arrest you.
So, there are a number of ways that an arrest warrant from another province can be executed in Ontario.
Note that a "radius" may be specified with both bench warrants and first-instance warrants. This specifies the maximum distance that the police are prepared to travel.
So, if you live in Vancouver but an arrest warrant is issued in Ontario with a 200Km radius specified, it is unlikely that you will be escorted back to Ontario to face your charges. 
However, police in Vancouver can still question you about it, as it will appear on the system.
Can I Travel if There is a Warrant for my Arrest?
Most arrest warrants issued in Ontario will allow you to travel within Canada without any problems unless you are stopped by police.
If they find that there is an existing search warrant against your name in the province that you are stopped, they will arrest you and take you into custody.
You should not attempt to travel internationally if there is a warrant out for your arrest. If the border guards discover you attempting to leave the country, they have the power to check the CPIC database and detain you until a police officer arrives to arrest you.
What Do You Do if There is an Arrest Warrant Out for You?
The first thing to do if you suspect or know that there is a warrant out for your arrest is to contact a good criminal lawyer.
Ignoring the problem is usually a poor strategy that will cause more problems for you in the future.
Jeffrey I. Reisman is an experienced criminal defence lawyer. He will help you navigate the process with the arrest warrant and the charges so that the impact on your future is limited.
If you have been charged with a crime or there is a warrant for your arrest, call 647.351.4357 I can help.